Get PRL's Elegante handrails for your next project. With no posts or base shoes, this railing system delivers limitless glass views. We use standoffs to secure glass panels to the sides of stringers or decks. For additional handrail support, you can bid matching backing plates for substrate mounts. We manufacture all Elegante handrails and railing components in-house. Sold as complete systems, you can select various standoffs and backing plates, handrail accessories, and glass panel types.
ELEGANTE HANDRAIL COMPONENTS:
Railing Standoffs:
2" standard diameters
Cap Profiles: Flat & domed
Material: 304 or 316 alloy stainless steel
Accepts Glass Thicknesses: ½" or thicker
Custom diameters, lengths & profiles
Standoff & Backing Plate Finishes:
Stainless steel & brass
Oil rubbed bronze & various paints
Elegante Backing Plates:
Thickness: ½"
Dimension: 4" x 8"
Profiles: Round & square
Material: Stainless steel
Custom sizes & shapes
Handrail tubing & wall mount brackets
Top caps, end caps, splice sleeves & more!
Glass Panel Types:
Clear tempered & laminated
Textured & spandrel
Custom sandblasted designs
We deliver the highest quality LAMINATED GLASS PRODUCTS Learn More, we have what you're looking for
At PRL we manufacture premium handrail and guardrail standoffs.
Elegante handrails. Find breathtaking all-glass views at PRL. Don't forget! You can expedite delivery for any of your projects. See how our Urgency Program can get you the fastest lead-times in the industry!
Download PRL's DIGITAL HANDRAIL CATALOG. Find out everything you need to know about our systems, components, protective shields and more.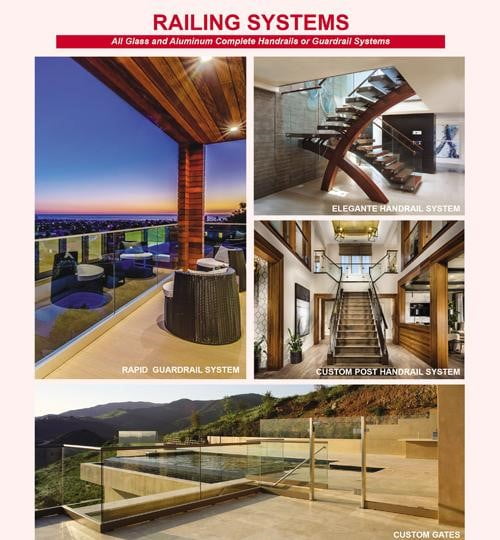 California's Leading All Glass Handrail and Guard Railing Manufacturer with Fastest lead-times in the industry!
PRL Glass Systems, Inc.
13644 Nelson Ave
City of Industry, CA. 91746
800-433-7044
For estimates & orders
You May Also Like: