Need quick and easy handrail installations? Buy PRL's rapid dryset handrail base shoes. This Rapid Dryset Handrail System is equipped with loads of beneficial features. With no special tools required, you can achieve consecutive run handrail alignments, replace damaged pieces and even change finishes. Sold in various lengths and sizes, our rapid dryset base shoes meet many handrail specs. And, great for mechanical or cemented applications, this is one handrail component you can't bid without.
Rapid Dryset Handrail System and Base Shoe Features:
35% lighter than the original base shoes Greater strength & durability
Glass Accepted:
Finishes:
Brushed & polished stainless steel & brass
Mechanical applications equal no messy cement!
Handrail Base Shoe Lengths & Sizes:
Alignment connection pins mean simple handrail alignments
Standard Stock Lengths: 10 & 20 ft.
Custom Lengths: Extruded per your plans
Standard Sizes: 4" High
Mini Sizes: 2 ¾" High
Interchangeable Drop-On Cover Features:
Makes repairs & changing base shoe finishes a snap!
Covers drop right into place = No need to remove the railing
Glazing pockets embedded with vinyl = Vinyl stays put
Finishes: Mill, clear & bronze anodized, powder coats
Quote rapid dryset handrail base shoes at PRL. For quick and easy installations, they're the way to go. Need your materials right away? Shop with us online! Available 24/7, we're there when it matters. Check out what you can get.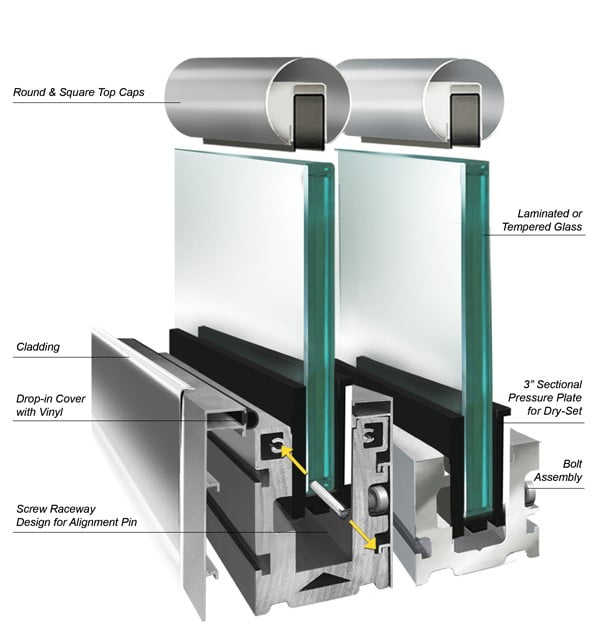 Rapid Dryset Handrail Base Shoes. Innovate Your Installations! Bid With PRL!
GlassBuild America Registration Code: GBAEX22
Tues. Oct. 18th – Thurs. Oct. 20th
Location: Las Vegas
PRL's Booth #: 9108 & 9109
Pop on by, say hello, & discover all we can do for you!
Fastest lead-times in the industry!
PRL Glass Systems, Inc.
13644 Nelson Ave
City of Industry, CA. 91746
800-433-7044
For estimates & orders
You May Also Like: