Shop PRL's glass handrail and guardrail panels. You'll discover what sizes, fabrications, and more you can get. All rendered in-house, we customize glass panels for numerous railing systems. Find out which handrails are below as well as how many glass types and thicknesses you can quote. So, send us your pattern, CAD, or hand drawings today. We can create just about anything you need. You'll also discover how easy it is to install our handrail and guardrail systems.
What Glass Handrail & Guardrail Panels Have You Produced?
Sectional glass handrail balusters
Oversized guardrail panels with multiple holes
All-glass railing designs & sectional glass for curved handrail panels
Compound-shaped glass panels with custom edging
Which Glass Fabrications Can I Specify for Handrail Panels?
Custom edges, precise holes & notches
Oversized panels, compound geometric shapes & cut-outs
Are Various Glass Sizes & Thicknesses Available?
Tempered Sizes: Up to 110" x 190"
Laminated Sizes: Up to 96″ x 155″
Standard Thicknesses: ¼", 3/8″, ½" & 9/16″
Custom Thicknesses: ¾" to 3″
How Many Glass Types Can I Bid for Guardrail Panels?
Clear tempered & clear PVB's
Spandrel & laminated colors
Textured, glue chipped & sandblasted
What Systems Accept Your Glass Railing Panels?
Rapid dryset & wet set handrails
Flex post railing system
Infinity hand & guardrails
Elegante stand-off railing system
Why Are Your Glass Handrail & Guardrail Panels Easy to Order?
Our CNC machine does it all!
Just upload your drawings to this system
Your railing panels will arrive ready to install
All glass holes will be pre-dilled per your specs
We deliver the highest quality LAMINATED GLASS PRODUCTS Learn More, we have what you're looking for.
Custom Laminated Glass with the fastest lead times in the industry.
Glass handrail and guardrail panels at PRL. Do business with us and see what fabrications you can get. Got a question related to this product? Click on our Live Chat! Our representatives will give you answers.
Download PRL's DIGITAL HANDRAIL CATALOG
Find out everything you need to know about our systems, components, protective shields and more.

VIEW PRL's HANDRAIL CATALOG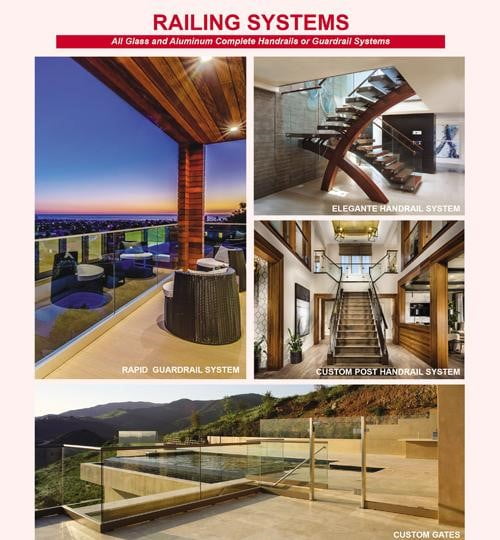 You May Also Like: