Shop handrail and guardrail custom post at PRL. Our flexible posts can be used for flexible uses. Accommodating numerous configurations, attachments and glass types, they're ideal for more than just handrails. Our Flex posts can be used for windbreak walls, glass fencing, gates, cubicles and more! And, made-to-order in any design, height or width, these components will meet your hand or guard railing needs. You can bid custom Flex posts or one of our popular styles.
Available Custom Posts:
Round: 1 ½" & 2" diameter
Square: 2" x 2". 1/8" wall thickness
Custom: Any height, profile or width
Handrail and Guardrail Custom Post Configurations:
In-line layouts
90° & 135° end & corner
Assorted radiuses
Custom angles
Attachment Options:
Glass & wall mount brackets
Fixed & adjustable glass brackets
Standard & adjustable stand-offs
Post Finishes:
Stainless steel
Powder coats
Kynar paints
Glass Types:
Oversized, tempered & tempered laminated
Textured, sandblasted & glue chipped
Colored, tinted & reflective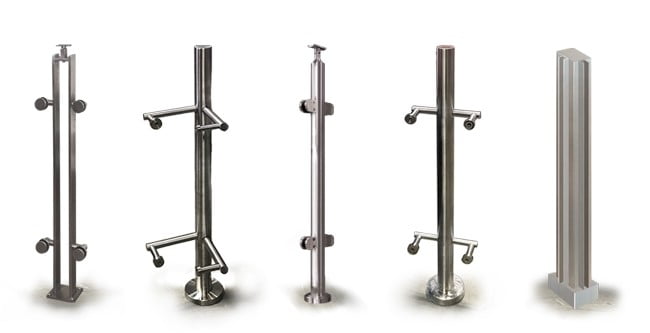 Handrail & Guardrail Posts. Discover Diverse Railing Configurations available from PRL
Handrail and guardrail custom post. Get flexible posts for flexible uses at PRL! Deal direct with us. You'll be glad you did. Remember! Our CAD, BIM & specs can be downloaded right on the job site. Access them from your device pronto!
THANK YOU FOR STOPPING BY!
PRL Glass & Aluminum sends our thanks to everyone who stopped by our booth at this year's GlassBuild America 2022. It was so exciting to meet with our customers and showcase our huge inventory of product lines and services.
Fastest lead-times in the industry!
PRL Glass Systems, Inc.
13644 Nelson Ave
City of Industry, CA. 91746
800-433-7044
For estimates & orders
You May Also Like: